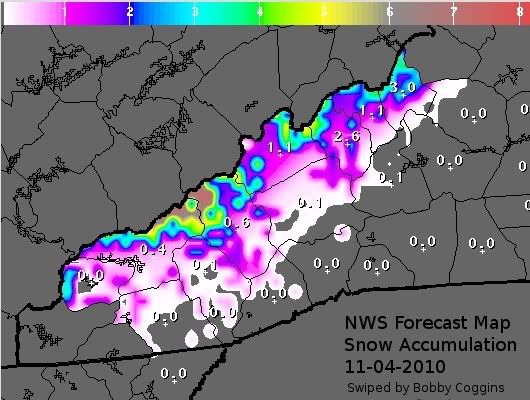 The Greenville-Spartanburg Office of the National Weather Service has issued the first Winter Storm Warning of the season. The Winter Storm warning covers Swain, Haywood and Madison Counties above 3500 feet. This will likely be a non-event for the rest of us. We might get to see some snow falling, but it won't, for the most part, be laying.
For more up to date information on the weather in our area, please visit the National Weather Service.
Here is a map of the area affected by the Warning, followed by the text of the statement by the National weather Service: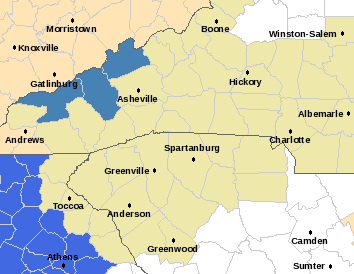 WWUS42 KGSP 040739
WSWGSP
URGENT - WINTER WEATHER MESSAGE
NATIONAL WEATHER SERVICE GREENVILLE-SPARTANBURG SC
339 AM EDT THU NOV 4 2010
...ACCUMULATING SNOWFALL EXPECTED OVER THE HIGH ELEVATIONS...
.A STRONG COLD FRONT WILL BRING MUCH COLDER AIR TO WESTERN NORTH
CAROLINA TONIGHT. A MOIST NORTHWEST FLOW DEVELOPING BEHIND THE
FRONT WILL COMBINE WITH AN UPPER LEVEL STORM SYSTEM TO PRODUCE
NUMEROUS SNOW SHOWERS...MAINLY OVER THE HIGHER ELEVATIONS FROM
LATE TONIGHT THROUGH TOMORROW AND INTO FRIDAY NIGHT. HEAVY
SNOWFALL TOTALS ARE POSSIBLE ACROSS THE SMOKIES...MAINLY AT
ELEVATIONS ABOVE 3500 FEET.
NCZ048-051-052-042000-
/O.NEW.KGSP.WS.A.0009.101105T0400Z-101106T1000Z/
MADISON-SWAIN-HAYWOOD-
339 AM EDT THU NOV 4 2010
...WINTER STORM WATCH IN EFFECT FROM LATE TONIGHT THROUGH LATE
FRIDAY NIGHT ABOVE 3500 FEET...
THE NATIONAL WEATHER SERVICE IN GREENVILLE-SPARTANBURG HAS ISSUED
A WINTER STORM WATCH ABOVE 3500 FEET...WHICH IS IN EFFECT FROM
LATE TONIGHT THROUGH LATE FRIDAY NIGHT.
RAIN SHOWERS WILL CHANGE TO SNOW SHOWERS THIS EVENING ACROSS THE
HIGHER ELEVATIONS OF THE SMOKIES AND SURROUNDING AREAS. COVERAGE
OF SNOW SHOWERS WILL INCREASE TOWARD DAYBREAK...AND BY LATE FRIDAY
MORNING...SOME HEAVIER BURSTS OF SNOW WILL BE POSSIBLE. SNOW
SHOWERS WILL BEGIN TO DECREASE IN COVERAGE FRIDAY EVENING...
BEFORE TAPERING OFF TO FLURRIES SATURDAY MORNING. TOTAL SNOWFALL
ACCUMULATIONS OF UP TO 7 INCHES WILL BE POSSIBLE...MAINLY IN AREAS
ABOVE 3500 FEET.
WHILE PERIODS OF SNOW...OR A RAIN SNOW MIX ARE EXPECTED IN THE
VALLEYS BENEATH THE SMOKIES AND IN THE LOWER FRENCH BROAD
VALLEY...LITTLE IN THE WAY OF ACCUMULATION IS EXPECTED.
PRECAUTIONARY/PREPAREDNESS ACTIONS...
A WINTER STORM WATCH MEANS THERE IS A POTENTIAL FOR SIGNIFICANT
SNOW...SLEET...OR ICE ACCUMULATIONS THAT MAY IMPACT TRAVEL.
CONTINUE TO MONITOR THE LATEST FORECASTS.
&&
$$
LANE