Scroll to the end of this post for further updates...


**4.26am** I've embedded a live video stream from a South Korean TV Station for the duration of this event, or until the stream gets pulled by Ustream.






**5.46am**

The stream has been pulled. Check out this webpage that lists several Korean Stations that are streaming live programming.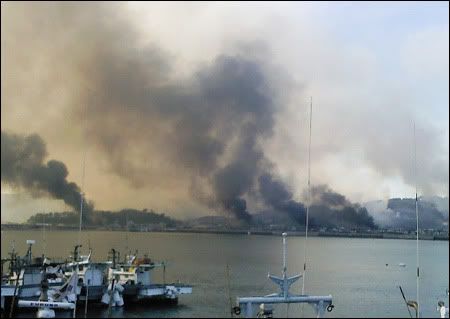 Seoul, South Korea (CNN) -- North Korea on Tuesday fired artillery into the sea near its tense western sea border with South Korea, injuring at least 14 South Korean military personnel and two civilians, the Yonhap news agency reported.
Four of the military personnel were seriously injured, Yonhap said.
At least 200 rounds of artillery hit an inhabited South Korean island after the North started firing about 2:30 p.m. local time, Yonhap said.
Source: CNN
I think this may be more simple military posturing by the leaders of North Korea in order to force the West into more concessions. I'll keep you updated as events unfold.
**3.33am**

Here is a report from The Wall Street Journal.
Here are some good news sources that you can use to keep up with the news from the Koreas:
United States Forces South Korea
Korea Times
Yonhap News Agency
The Chosunilbo
The Seoul Times
And here is the official state-run news website from North Korea. (Reports to be taken with a HUGE grain of salt and not to be believed unless verified elsewhere. Anything reported on this website is to be considered as pure propaganda.)
A brief video report from CNN.
Video of a report from South Korean television.
Video blog from an American living in South Korea.
A report that details the Chinese point of view on North Korea, why they prop up the North Korean government.
And here is a 45 minute video from National Geographic that goes into some detail about North Korea:
Inside North Korea by The National Geographic Channel
Hat Tip: ReconChesty via Twitter. (tweet reproduced below)
**3.56am**

Hat Tip to @
RodrigoBNO
for this story that gives a little more background for the difficulties in dealing with North Korea:
Seoul's Vulnerability Is Key to War Scenarios
A U.S. strike on the North may provoke a catastrophic retaliation against South's capital.
By Barbara Demick, Times Staff Writer
SEOUL -- When the U.S. military tries to explain the difficulty of using force to stop North Korea's development of nuclear weapons, the oddly poetic phrase it turns to is the "tyranny of proximity."
The phrase, which has been in the lexicon of the U.S. forces in South Korea for years, stems from the imposing array of conventional artillery that the North Koreans have dug into the hills just north of the demilitarized zone, a mere 30 miles from this capital city of 12 million. The nightmare scenario is that if the United States opts for a more forceful approach to curb North Korea's nuclear ambitions, the communist regime would retaliate not only against the 38,000 American troops stationed in South Korea, but also against South Korea itself.
North Korea last Tuesday bluntly reminded Seoul of its vulnerability when an envoy threatened the South with "unspeakable disaster" if it sides with Washington in the crisis.
The comment — which ironically was made at the opening of talks about South Korean economic assistance to the impoverished North — underscores the degree to which Seoul is being held hostage.
**5.40am**

Here is a Google Satellite Map of the area attacked by the North Koreans: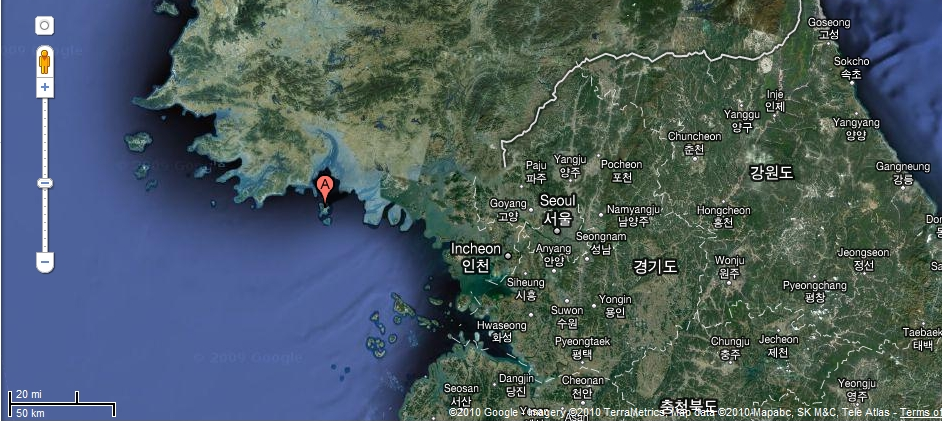 **6.57am**

A recap from the UK Guardian Live Blog:
11.50am: Time for a bit of a recap after a tumultuous morning.
• Two South Korean marines have died after North Korea fired shells at on the South Korean island of Yeonpyeong. South Korea's Joint Chief of Staff said 16 others were injured during the bombardment of the island, which is located near the countries' disputed western border.
• South Korea returned fire and scrambled fighter jets in response to the attack. North Korea has not confirmed whether it suffered any losses. South Korea has accused its neighbour of an "intentional and planned attack", and said North Korea's action violated the 1953 armistice between the two countries.
• North Korea has issued a robust response, accusing South Korea of firing first and saying it was provoked into taking action.South Korea was undertaking an annual military drill before North Korea fired. "Despite our repeated warnings, South Korea fired dozens of shells from 1pm ... and we've taken strong military action immediately," the North's official KCNA news agency said.
• The international community has criticised North Korea, with the White House describing the attack as "belligerent". In the UK, foreign secretary William Hague said the attack was "unprovoked" and said the country "strongly condemns" it. A senior Russian Foreign Ministry official said North Korea's action was "absolutely unacceptable".
**8.04am**
S. Korea may strike N. Korea's missile base: President Lee
SEOUL, Nov. 23 (Yonhap)
-- President Lee Myung-bak ordered his military Tuesday to strike North Korea's missile base around its coastline artillery positions if it shows signs of additional provocation, his spokeswoman said.

In a video conference with Gen. Han Min-koo, chairman of the Joint Chiefs of Staff, the president ordered "multiple-fold retaliation" against the North for its artillery attack on a South Korean island, according to presidential spokeswoman Kim Hee-jung.

"President Lee instructed (the military) to strike North Korea's missile base near coastline artillery position if necessary... if there in an indication of further provocation," the spokeswoman said.
**2.36pm**
A recap from the
UK Guardian Live Blog
:
4
.30pm:
That's it for today, thanks for reading and for the comments. Tania has just filed a story on today's events:
South Korea warned today that it will unleash "enormous retaliation" if North Korea launches fresh attacks against its territory.

North Korean troops bombarded Yeonpyeong, an island in disputed waters, with dozens of rounds of artillery earlier today, reportedly killing two South Korean soldiers and injuring around 20 people.

Seoul placed its military on its highest non-wartime alert level, scrambling F-16 fighter jets to the western sea and returning fire, officials said. It warned that the attack was a violation of the armistice that ended the Korean war in 1953.

The South Korean president, Lee Myung-bak, who convened an emergency security meeting shortly after the initial bombardment, said an "indiscriminate attack on civilians" could never be tolerated.

"Enormous retaliation should be made, to the extent that [North Korea] cannot make provocations again," he said.

The assault is one of the most serious in the decades since the war, given the involvement of civilians, although previous firefights around the disputed maritime border have resulted in a higher number of casualties.

In a short statement carried by the official KCNA news agency, the North said the South had fired first – presumably in reference to a live-fire drill being carried out as part of annual military exercises. It said it had repeatedly warned the South not to go ahead with the drill.