**6.01pm** Here is the audio [download MP3] from todays meeting, along with the presentation to Commissioner Bob Simpson afterward: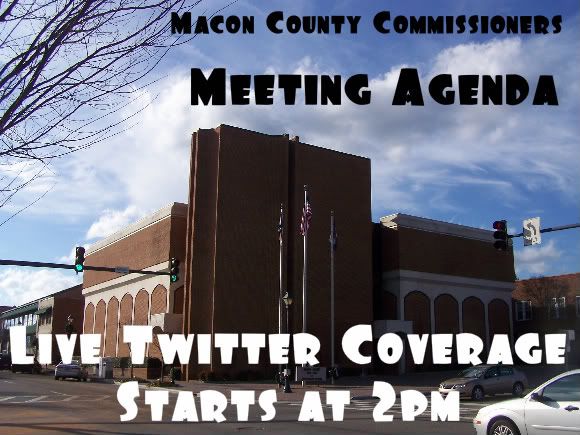 The Macon County Commissioners will be meeting this afternoon at 2pm in the Commissioners boardroom, and I'll be there, tweeting and uploading photos while I record video for posting later. After the meeting, anticipated to be around 4pm, there is a presentation and reception planned to recognize the service of Bob Simpson to the citizens of Macon County. From my year of observation of him, I can report that he has served Macon county honorably and always with the best of intentions and all due diligence.
From the Macon County website:
Bob Simpson was elected to his first term in November, 2002 and reelected in November, 2006 Mr. Simpson attended Franklin High School and Western Carolina University. He is married to the former Margaret Setser and they have four children.
Bob is the owner of Bob Simpson Contracting/HVAC. The Simpson family are members of First United Methodist Church where Bob serves on the Board of Trustees and teaches a children's Sunday school class.
Most of his spare time is spent with his family and working with various youth organizations and sports teams. Bob represents the Board on the Airport Authority, Animal Control Study Committee, Dangerous Dog Board, Economic Development Commission, Franklin/Nantahala TDC, Greenway Project, Recreation Commission, Schools, Region A including Advisory Council and Transportation Advisory Council, Transit Services and Water/Sewer Committee.
The agenda for today's meeting is below, and below that is a Twitter Widget that will alllow you to follow along with the meeting by reading my tweets and looking at the photos I post. Or, if you prefer to follow along using your favorite twitter Client, I will be using the hashtag #MaconGov. Feel free to ask questions or comment on the proceedings. I cannot stream live video from the Courthouse because their system does not have the bandwidth to handle it.
If you're planning to be at the meeting, say hello before the meeting or during breaks. I'll be the only guy with a camera on a tripod.

ʘ‿ʘ
MACON COUNTY BOARD OF COMMISSIONERS
NOVEMBER 22, 2010 – 2 P.M.
AGENDA
1. Call to order and welcome by Chairman Beale
2. Announcements
3. Invocation
4. Pledge of Allegiance
5. Public Hearing - None
6. Public Comment Period
7. Adjustments to and approval of the agenda
8. Reports/Presentations:
A. Presentation of GFOA award to Finance Officer and Staff
B. FY 09/10 Audit presentation– Erica Brown from Martin & Starnes
C. Angel Medical Center CEO Tim Hubbs
9. Old Business:
A. Viper Tower……………………………………………Attachment #9A
10. New Business:
A. Iotla Elementary School (Terry Bell)….……………..Attachment #10A
B. Northland Cable………………………………………Attachment #10B
C. Right of way and Release on Greenway/Duke Power (Attorney Jones)
11. Consent Agenda…………………………………………………Attachment #11
All items below are considered routine and will be enacted by one motion. No separate discussion will be held except on request of a member of the Board of Commissioners.
Minutes………………………………………………...Attachment #11A

Finance / Budget revisions ……………………………Attachment #11B

Tax releases…………………………………………....Attachment #11C

Christmas bonus

Correct Community Funding Pool Allocation………Attachment #11E
12. Appointments – Planning Board……………………………....Attachment #12
13. Resignation – Accept resignation of Commissioner Davis to be effective January 10, 2011.
14. Closed session (If necessary)
15. Adjournment/Recess –
16. 4 p.m. – Reception and presentation for out-going Commissioner Simpson