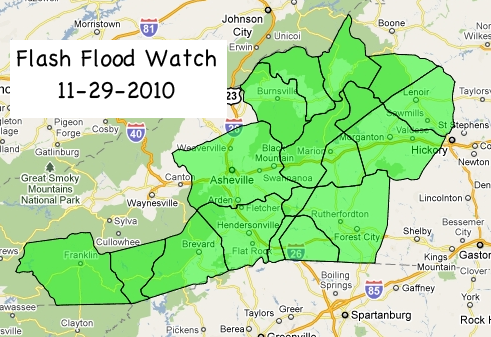 The National Weather Service has issued a Flash Flood Watch for parts of western North Carolina for tonight, tomorrow and tomorrow night as we are expected to get upwards of 2 to 4 inches if rain in that time frame. I expect that the watch area will be expanded and a few Flash Flood Warnings will be issued before this weather event is over, so keep an eye on this if you live in a low-lying area. For more up to date information on this, please visit the National Weather Service.
For those who use Twitter, the weather hashtags for the various areas in the watch area include, #WNCwx, #NCwx and you can use #AVLwx if you are just interested in Asheville-centric weather. The #WNCwx tag is the best to use for our area in western North Carolina as the #NCwx feed has been overwhelmed by Idiots near Raleigh who have Twitterbots constantly posting weather station readings under that tag. They should be posting under #Wakewx or #Durhamwx, for example, for better audience targeting.
Here is the text of the weather watch:
FLOOD WATCH
NATIONAL WEATHER SERVICE GREENVILLE-SPARTANBURG SC
400 AM EST MON NOV 29 2010
...EXCESSIVE RAIN POSSIBLE TUESDAY AND TUESDAY NIGHT...
.VERY MOIST SOUTHERLY FLOW AHEAD OF AN APPROACHING COLD FRONT WILL
TRIGGER WIDESPREAD SHOWERS AND THUNDERSTORMS ACROSS THE WESTERN
CAROLINAS.
AVERY-YANCEY-MITCHELL-BUNCOMBE-MACON-SOUTHERN JACKSON-
TRANSYLVANIA-HENDERSON-CALDWELL MOUNTAINS-GREATER CALDWELL-
BURKE MOUNTAINS-GREATER BURKE-MCDOWELL MOUNTAINS-EASTERN MCDOWELL-
RUTHERFORD MOUNTAINS-GREATER RUTHERFORD-POLK MOUNTAINS-
EASTERN POLK-
INCLUDING THE CITIES OF...NEWLAND...SPRUCE PINE...ASHEVILLE...
FRANKLIN...BREVARD...HENDERSONVILLE...LENOIR...MORGANTON...
MARION...LAKE LURE...RUTHERFORD...COLUMBUS
400 AM EST MON NOV 29 2010
...FLASH FLOOD WATCH IN EFFECT FROM TUESDAY AFTERNOON THROUGH
LATE TUESDAY NIGHT...
THE NATIONAL WEATHER SERVICE IN GREENVILLE-SPARTANBURG HAS ISSUED
A
* FLASH FLOOD WATCH FOR A PORTION OF WESTERN NORTH CAROLINA...
INCLUDING THE FOLLOWING AREAS...AVERY...BURKE MOUNTAINS...
BUNCOMBE...CALDWELL MOUNTAINS...EASTERN MCDOWELL...EASTERN
POLK...GREATER BURKE...GREATER CALDWELL...GREATER
RUTHERFORD...HENDERSON...MCDOWELL MOUNTAINS...MACON...
MITCHELL...POLK MOUNTAINS...RUTHERFORD MOUNTAINS...SOUTHERN
JACKSON...TRANSYLVANIA AND YANCEY.
* FROM TUESDAY AFTERNOON THROUGH LATE TUESDAY NIGHT
* RAINFALL AMOUNTS OF TWO TO FOUR INCHES WILL BE POSSIBLE.
* STREAMS...MAINSTEM RIVERS AND POOR DRAINAGE AREAS ACROSS PARTS
OF THE NORTH CAROLINA MOUNTAINS AND FOOTHILLS WILL EXPERIENCE
RAPID RISES AND PERHAPS FLOODING AS VERY HEAVY RAIN IS FORECAST TO
FALL TUESDAY INTO TUESDAY NIGHT.
PRECAUTIONARY/PREPAREDNESS ACTIONS...
A FLASH FLOOD WATCH MEANS THAT CONDITIONS MAY DEVELOP THAT LEAD
TO FLASH FLOODING. FLASH FLOODING IS A VERY DANGEROUS SITUATION.
YOU SHOULD MONITOR LATER FORECASTS AND BE PREPARED TO TAKE ACTION
SHOULD FLASH FLOOD WARNINGS BE ISSUED.