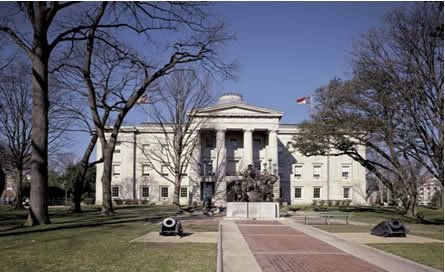 The Joint Legislative Program Evaluation Oversight Committee met today in the NC General assembly and here is the audio and supporting documents (where they were made available beforehand):
1. Remarks by Co-Chairs
[There were no remarks]
2. Approval of Minutes – May 24, 2010
[approval was by acclaimation]
3. Presentation: University System Enrollment Change Formula
Presenter: Michelle Beck Senior Program Evaluator
[Links to supporting documents (all in PDF format) that you can use to read along with the presenter]
4. Presentation: Audits by State Auditor, Beth Wood
--- NC Department of Transportation Heavy Equipment Fleet Management
Audit Report
---Oversight & Administration of the Performance Management System
Audit Report
5. Presentation: NC Accountability Report – DPI Drivers Education Program
Presenter: Larry Yates Principal Program Evaluator
[The documents and handouts were not available online at the time of the meeting]
6. Presentation: Director Report on current and pending PED activities
Presenter: John Turcotte Director
[Supporting documents nor handouts were made available online at the time of the meeting]
Let me know if you like this format of reporting on the NC General Assembly or not
.
Co-Chairs

Rep. E. Nelson Cole (Co-Chair)

House Appointment

Rep. James Walker Crawford, Jr. (Co-Chair)

House Appointment

Sen. Daniel Gray Clodfelter (Co-Chair)

Senate Appointment

Sen. Fletcher Lee Hartsell, Jr. (Co-Chair)

Senate Appointment
Legislative Members

Rep. Larry D. Hall

House Appointment

Rep. Lindsey Hugh Holliman

House Appointment

Rep. Carolyn Hewitt Justice

House Appointment

Rep. James H. Langdon, Jr.

House Appointment

Rep. David R. Lewis

House Appointment

Rep. Paul Luebke

House Appointment

Sen. Charles Woodrow Albertson

Senate Appointment

Sen. Peter Samuel Brunstetter

Senate Appointment

Sen. Malcolm Graham

Senate Appointment

Sen. Samuel Clark Jenkins

Senate Appointment

Sen. Martin L. Nesbitt, Jr.

Senate Appointment

Sen. Richard Yates Stevens

Senate Appointment

Sen. Albin B. Swindell, IV

Senate Appointment