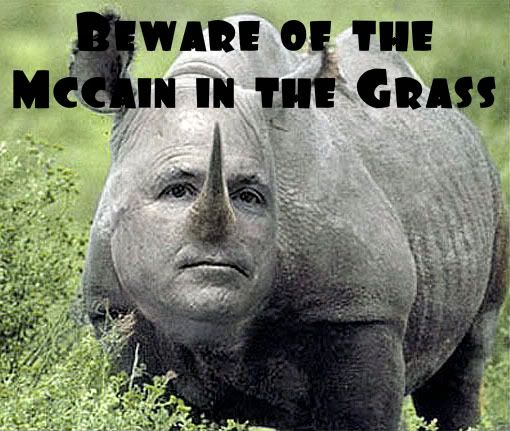 Pay attention: In the afterglow of the Massachusetts Miracle, there are flickers of peril for the right. I hate to be the bearer of bad news, but like Paul Revere's midnight message, consider this warning "a cry of defiance, and not of fear." Conservatives have worked hard to rebuild after Big Government Republican John McCain's defeat. But McCain isn't going gently into that good night.
Red Flag No. One: A reader from Arizona informed me the day after the Bay State Bombshell that he had received a robo-call from Massachusetts GOP Sen.-elect Scott Brown. "He basically wanted me to vote for John McCain in November," the reader said in his description of the automated campaign call supporting the four-term Sen. McCain's re-election bid. "No wonder [Brown] said he hadn't had any sleep. … He was busy recording phone messages!"
Red Flag No. Two: Also in the wake of the Massachusetts special election, the nation's most popular conservative political figure Sarah Palin announced she would be campaigning for her former running mate in Arizona in March. Palin told Facebook followers that she's going to "ride the tide with commonsense candidates" and help "heroes and statesmen" like McCain.
Facing mounting conservative opposition in his home state and polls showing him virtually tied with possible GOP challenger and former Rep. J.D. Hayworth, McCain welcomed the boost: "Sarah energized our nation and remains a leading voice in the Republican Party."
Savor the irony: After a career spent bashing the right flank of the party, McCain is now clinging to its coattails to save his incumbent hide.
And pay attention to the hidden, more troubling irony: While he runs to the right to protect his seat, McCain's political machine is working across the country to install liberal and establishment Republicans to secure his legacy.
Source:
KTKZ 1380-AM
Everyone from Freedom Works to the Ron Paul types have tried to hijack BOTH the GOP and the Tea Party.
We must do whatever we can do make sure John McCain loses his primary this year. I support Chris Simcox.
Check him out
.