The snow sirens are going full-tilt. I'm cranking mine as well. This storm appears that it will be more widespread than the previous ones this season, so I'd advise that you go to town, get some groceries, batteries and top off your vehicle's fuel tank. If your vehicle is a bicycle...you are screwed in that regard. FEMA has a handy-dandy checklist of things you should be doing to prepare for winter weather.
Get Thee Hence.
And please, once the snow starts laying...STAY OFF THE ROADS.
If you have an emergency, call 911. If you get Cabin Fever, tough it out and stay put.

What ever you do, please check The National Weather Service for the
latest updates
on this potentially dangerous event. You can also keep checking the GSP Winter Weather Briefing Page and also check out Twitter, which has evolved into a pretty decent information interchange over the past year.
Sample Search String
.
Search String Minus #avlsnOMG clutter
. (most of it is ReTweets once a storm gets rolling, so it becomes useless to someone who is just scanning for information)
Here is what NOAA All Hazards Radio is saying for my neck of the woods...
This is a forecast of how much snow we can expect...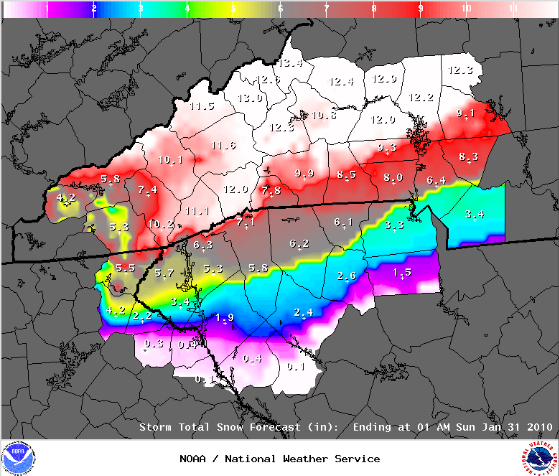 And this is the official warning for my area...
Winter Storm Warning

URGENT - WINTER WEATHER MESSAGE
NATIONAL WEATHER SERVICE GREENVILLE-SPARTANBURG SC
328 AM EST FRI JAN 29 2010

...MAJOR WINTER STORM TO AFFECT THE REGION FRIDAY NIGHT AND
SATURDAY...

.A STRONG LOW PRESSURE SYSTEM OVER TEXAS WILL MOVE INTO THE
NORTHERN GULF AND TRACK EAST ACROSS THE GULF COAST THROUGH
TONIGHT...BEFORE MOVING OFF THE ATLANTIC COAST SATURDAY. THE STORM
SYSTEM WILL BRING A WINTRY MIX OF PRECIPITATION ACROSS THE WESTERN
CAROLINAS AND NORTHEAST GEORGIA STARTING LATE THIS AFTERNOON.
PRECIPITATION WILL LIKELY BEGIN AS A MIX OF RAIN AND
SNOW...TURNING TO MAINLY SNOW ACROSS THE NORTH CAROLINA
MOUNTAINS AND INTERSTATE 40 CORRIDOR THROUGH THE FOOTHILLS AND
PIEDMONT. SIGNIFICANT ACCUMULATIONS OF SNOW ARE EXPECTED IN THESE
AREAS FRIDAY NIGHT THROUGH SATURDAY. EXPECT MORE OF A WINTRY MIX
CLOSER TO THE INTERSTATE 85 CORRIDOR AND POINTS SOUTH...WITH A
PERIOD OF FREEZING RAIN LIKELY PRODUCING SIGNIFICANT ICE
ACCUMULATIONS.



...WINTER STORM WARNING REMAINS IN EFFECT FROM NOON TODAY TO 6 PM
EST SATURDAY...

A WINTER STORM WARNING REMAINS IN EFFECT FROM NOON TODAY TO 6 PM
EST SATURDAY.

A MIX OF RAIN AND SNOW WILL DEVELOP FROM THE WEST THIS AFTERNOON.
PRECIPITATION WILL TRANSITION TO MAINLY SNOW THIS EVENING...WITH
PERIODS OF HEAVY SNOW LIKELY CONTINUING WELL INTO SATURDAY. THE
SNOW MAY MIX WITH SLEET AND FREEZING RAIN AT TIMES...ESPECIALLY IN
LOCATIONS SOUTH OF INTERSTATE 40. THE PRECIPITATION SHOULD
GRADUALLY TAPER OFF FROM THE WEST SATURDAY EVENING.

TOTAL SNOW ACCUMULATIONS OF 6 TO 10 INCHES CAN BE EXPECTED ACROSS
MOST OF THE WARNED AREA. AMOUNTS WILL LIKELY BE A LITTLE LESS IN
THE VALLEYS OF THE SOUTHWEST MOUNTAINS WHERE THE SNOW WILL MIX
WITH SLEET AND FREEZING RAIN AT TIMES. SNOWFALL TOTALS MAY REACH
OR EXCEED 9 TO 12 INCHES IN THE HIGHER ELEVATIONS OF THE NORTHERN
MOUNTAINS...ESPECIALLY AREAS NEAR THE BLUE RIDGE.

PRECAUTIONARY/PREPAREDNESS ACTIONS...

A WINTER STORM WARNING MEANS SIGNIFICANT AMOUNTS OF SNOW...
SLEET...AND ICE ARE EXPECTED OR OCCURRING. HEAVY WET SNOW AND/OR
ICE ACCUMULATIONS MAY RESULT IN TOPPLED TREES AND/OR POWER LINES.
TRAVEL IS EXPECTED TO BECOME VERY HAZARDOUS OR IMPOSSIBLE.