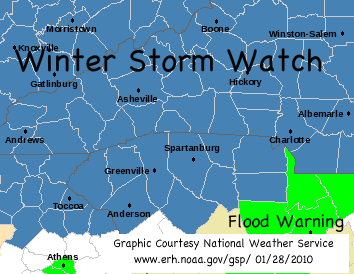 As the graphic above indicates, we might be in for some winter weather in the next 48 hours or so. Please keep checking for updated information, as this is a fluid situation and the forecast is not yet firmed down.

The National Weather Serive is being very coy about putting amounts of forecasted snow on their maps...just a vague 4 to 10 inches. On the pin-point forecasts, all I'm seeing is 1/2 an inch or so. Maybe that will change as the models start to agree with one another.
The forecast from NOAA All Hazards Radio:

Anyhow, here is the Winter watch Statement for the National Weather Service:



URGENT - WINTER WEATHER MESSAGE


NATIONAL WEATHER SERVICE GREENVILLE-SPARTANBURG SC
440 AM EST THU JAN 28 2010

...MAJOR WINTER STORM TO AFFECT THE SOUTHERN APPALACHIANS AND
SURROUNDING AREAS LATE THIS WEEK...

.A MAJOR STORM SYSTEM WILL ORGANIZE ACROSS TEXAS TODAY AND
TONIGHT...THEN MOVE ALONG THE GULF COAST FRIDAY. THIS STORM
SYSTEM WILL SPREAD PRECIPITATION OVER THE WESTERN CAROLINAS BY
FRIDAY AFTERNOON. ALTHOUGH PRECIPITATION WILL LIKELY BEGIN AS
RAIN...OR A MIX OF RAIN AND SNOW...COOLER AIR SPILLING INTO THE
REGION FROM THE NORTHWEST IS EXPECTED TO ALLOW PRECIPITATION TO
TRANSITION TO MAINLY SNOW ACROSS THE NORTH CAROLINA MOUNTAINS...
AND ALONG THE I-40 CORRIDOR IN THE FOOTHILLS AND PIEDMONT.
SIGNIFICANT ACCUMULATIONS OF SNOW ARE EXPECTED IN THESE AREAS
FRIDAY AFTERNOON THROUGH EARLY SATURDAY.

MORE OF A MIX IS EXPECTED FARTHER SOUTH...ALONG THE I-85 CORRIDOR.
HOWEVER...A PERIOD OF SNOW IS EXPECTED FRIDAY NIGHT BEFORE A
TRANSITION TO SLEET AND FREEZING OCCURS. ACCUMULATIONS WILL VARY
WIDELY OVER SHORT DISTANCES WITH SOME AREAS SEEING SEVERAL INCHES
OF SNOW...AND OTHERS SEEING MOSTLY SLEET AND FREEZING RAIN.


...WINTER STORM WATCH IN EFFECT FROM FRIDAY AFTERNOON THROUGH
SATURDAY AFTERNOON...

THE NATIONAL WEATHER SERVICE IN GREENVILLE-SPARTANBURG HAS ISSUED
A WINTER STORM WATCH...WHICH IS IN EFFECT FROM FRIDAY AFTERNOON
THROUGH SATURDAY AFTERNOON.

A MIX OF RAIN AND SNOW WILL TRANSITION TO MOSTLY SNOW ACROSS THE
WESTERN PIEDMONT OF NORTH CAROLINA LATE FRIDAY AFTERNOON. SNOW IS
EXPECTED TO FALL FOR SEVERAL HOURS BEFORE A GRADUAL TRANSITION TO
SLEET AND FREEZING RAIN OCCURS. AREAS ALONG AND NORTH OF
INTERSTATE 85 WILL SEE THE MOST SNOW...WHILE THE TRANSITION WILL
HAPPEN MORE QUICKLY TO THE SOUTH. IN FACT...AREAS FROM MONROE TO
YORK MAY SEE ONLY AN HOUR OR TWO OF SNOW BEFORE THE MIX DEVELOPS.
THE PRECIPITATION IS EXPECTED TO CHANGE BACK OVER TO SNOW BEFORE
ENDING DURING THE DAY ON SATURDAY. SEVERAL INCHES OF SNOW IS
POSSIBLE WHERE THE CHANGE-OVER TAKES THE LONGEST.

SOUTH OF THE HEAVIER SNOWFALL...A BAND OF SIGNIFICANT SLEET
ACCUMULATION AND A DAMAGING GLAZE OF ICE IS LIKELY. AT THIS TIME
THE MOST LIKELY AREA TO BE AFFECTED LOOKS TO BE THE SOUTH SIDE OF
CHARLOTTE...INTO THE NORTHWEST PIEDMONT OF SOUTH CAROLINA.



PRECAUTIONARY/PREPAREDNESS ACTIONS...



A WINTER STORM WATCH MEANS THERE IS A POTENTIAL FOR SIGNIFICANT
SNOW...SLEET...OR ICE ACCUMULATIONS THAT MAY IMPACT TRAVEL.
CONTINUE TO MONITOR THE LATEST FORECASTS.