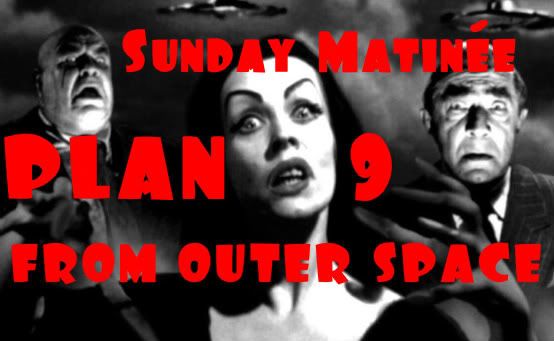 This is a bad movie, even by the standards of the Lifetime Movie Network...but still better than Wrestling.

The plot is preposterous (even for the 1950's, and the special effects are bad. Very, very bad.
Here is Wikipedia has to say:

Plan 9 from Outer Space (originally titled as Grave Robbers from Outer Space) is a 1959 science fiction/horror film written, and directed by Edward D. Wood, Jr. The film features Gregory Walcott, Mona McKinnon, Tor Johnson and Maila "Vampira" Nurmi. The film bills Béla Lugosi posthumously as a star, although footage of the actor was shot by Wood for another film just before Lugosi's death in 1956.
The plot of the film is focused on extraterrestrial beings who are seeking to stop humans from creating a doomsday weapon that would destroy the universe. In the course of doing so, the aliens implement "Plan 9", a scheme to resurrect Earth's dead as zombies to get the planet's attention, causing chaos.
For years, the film played on television in relative obscurity, until 1980, when author Michael Medved dubbed Plan 9 from Outer Space the "worst movie ever made". It has also earned Wood a posthumous Golden Turkey Award (an award of Medved's creation) as the worst director ever. Various critics since have concurred with this opinion.




Download a copy for yourself from the
Internet Archive
. (lefthand sidebar to choose your desired format)





Here is the Laugh Out Loud funny short from the Mystery Science Theater 3000 guys making fun of the movie...




If you know where I might get a copy of these guys panning Plan 9, please let me know in the comments.