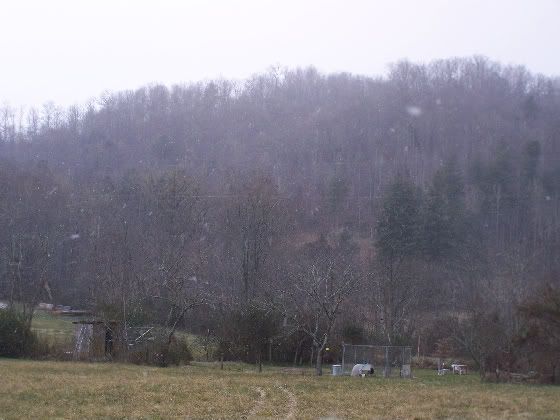 As I write this, it is 20 minutes until 8 am, 17 degrees (Fahrenheit) and snowing at my house just northeast of Franklin, NC. [SEE ABOVE PHOTO]

The specific counties listed in the advisory are Avery, Buncombe, Graham, Haywood, Henderson, Jackson, Macon, Madison, Mitchell, Swain, Transylvania and Yancey.

The forecast through late next week calls for highs ranging between the mid-20s to upper-30s during the day, dipping to the teens at night. The normal lows for this time of year are around the mid- to upper-20s.

"There's a strong area of high pressure over the middle of the country that came from central Canada," National Weather Service meteorologist Bryan McAvoy said. "As long as the area of high pressure remains, it will continue to push cold air into the region."




The cold weather has devastated the Scottish football schedule for the second week in a row.


Falkirk v St Johnstone survived a late inspection but Motherwell v Hamilton, also in the Scottish Premier League, is off after pipes burst at Fir Park.
In the Scottish Football League the three scheduled First Division games are victims of the freezing weather and all five Second Division games are off.
Queen's Park's late call-off means all Third Division fixtures are wiped out.
East Stirling v Elgin, Stranraer v Annan, Berwick Rangers v Livingston and Montrose v Forfar had all been postponed earlier, and the staff at Hampden were hopeful that the Spiders' game against Albion Rovers could have gone ahead after a major effort was made to clear ice and snow from around the ground.
But further snowfall in the south side of Glasgow has caused continuing problems in the Hampden area.

It doesn't end there, Asia has been having unusually cold weather also...

Beggars and homeless people had to spend the cold nights with little protection beyond plastic sheets and bags, reports said. State authorities were distributing blankets and firewood to the poor, police said.

Weather officials said there would be no respite from the cold weather and expect temperatures to fall further over the weekend.

Cold weather prevailed in northern states like Punjab and Haryana. The season's lowest temperature on the plains was reported from Amritsar, which recorded minus 0,2 degrees Celsius.

In the Himalayan region, several parts of Indian Kashmir and Himachal Pradesh temperatures dropped below zero.

Winters in India are brief, beginning in mid-December and ending by February.

It seems funny to me that when Lefties schedule major forums on Global Warming that record cold weather ensues shortly thereafter. You'd think that they'd learn and only hold conferences during the warmest part of summer.