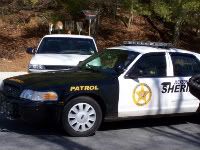 Brothers Marvin Caleb Williams, of Wilksboro, who was 20 at the time of his arrest, and Mathew Colton Williams, who was 18, will spend two years on unsupervised probation and will pay court costs, as ruled by Jackson County District Court Judge Richlyn Holt. The Williams were each charged with misdemeanor disorderly conduct. A charge for committing a wild life act without a license or permit was dropped.

Neither Marvin nor Mathew Williams commented on the ruling or about the prank in court this morning and declined comment to the media after the hearing.

Their attorney, Kris Earwood, told the court that the brothers "deeply apologize" for the incident and were shocked that it was perceived as a political statement.

"This was just a very bad choice by two young boys," said Earwood.

Source: Western Carolinian



Commentary

I am so glad that the justice system was not perverted by lefties wanting to score political points off the poor judgment of a few youngsters. Chancellor Bardo was a voice for reason in the days after the prank, as can be seen in this video I shot of the WCU Press Conference after the bear was found:


See more video of
WCU Students and Bardo
discussing their concerns.