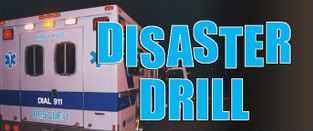 I am currently in the Emergency Media Center that has been set up for the purpose of a mock disaster drill on the campus of Western Carolina University from 12:30pm to around 5pm today that will simulate three days of activity in response to a serious incident on campus.
For informational purposes here is a statement regarding today's drill:
AN EMERGENCY DRILL IS UNDER WAY ON CAMPUS UNTIL 5 P.M. TODAY. IT IS ONLY A DRILL. THIS IS A DRILL STATEMENT. The university and area 
law enforcement agencies
 are practicing investigating a serious incident on campus. Information will be posted at 
www.wcu.edu
 as soon as it becomes available. If you have additional questions, contact the Office of 
Public Relations
 at 
(828) 227-7327
.  THIS IS ONLY A DRILL.
The drill, which will involve a simulated "active shooter" incident in a campus residence hall, is the result of a $40,000 federal homeland security grant to the Jackson County Emergency Management Office to help law enforcement agencies, emergency responders and university officials evaluate existing crisis response plans, policies and procedures. The full-scale drill follows a tabletop exercise held in January.
"The purpose of the drill is to test our response to a mass casualty incident," said Lt. Kent Davis of the University Police Department. "The drill is designed to be educational and provide opportunities to improve our responses and develop policies for various emergencies."
The March 3 scenario will be the first full-scale exercise the university has conducted since May 2004, when a campuswide emergency drill involved a mock explosion in a chemistry lab.
I'll be going along with the test myself to test my ability to blog from a live event, an will be producing short video segments during the drill, so stand by for more shortly...