**9.39pm**

I have updated coverage on my photoblog.

As you can see from the above and below graphics...we may be in for a rough night in southwest North Carolina. I know NE Georgia and East Tennessee will be...
Severe Thunderstorm Warning
SEVERE THUNDERSTORM WARNING
/O.NEW.KGSP.SV.W.0037.090410T2112Z-090410T2245Z/
BULLETIN - IMMEDIATE BROADCAST REQUESTED
SEVERE THUNDERSTORM WARNING
NATIONAL WEATHER SERVICE GREENVILLE-SPARTANBURG SC
512 PM EDT FRI APR 10 2009
THE NATIONAL WEATHER SERVICE IN GREENVILLE-SPARTANBURG HAS ISSUED A
* SEVERE THUNDERSTORM WARNING FOR...
  WESTERN MACON COUNTY IN WESTERN NORTH CAROLINA
  GRAHAM COUNTY IN WESTERN NORTH CAROLINA
  SWAIN COUNTY IN WESTERN NORTH CAROLINA
* AT 509 PM EDT...NATIONAL WEATHER SERVICE DOPPLER RADAR INDICATED
  A LINE OF SEVERE THUNDERSTORMS ACROSS SOUTHEAST TENNESSEE. THESE
  STORMS WERE LOCATED ALONG A LINE APPROACING GREENBACK TO TELLICO
  PLAINS TO ARCHVILLE...AND WAS MOVING EAST AT 45 MPH.
* OTHER LOCATIONS IN THE WARNING INCLUDE BUT ARE NOT LIMITED TO
  SANTEETLAH LAKE...FONTANA LAKE...WESSER...TAPOCO...STECOAH...
  SMOKEMONT...SANTEETLAH...ROBBINSVILLE...RAINBOW SPRINGS...NEWFOUND
  GAP...NANTAHALA LAKE...LUADA...KYLE...FONTANA VILLAGE...CHEROKEE...
  BRYSON CITY...ALMOND AND ALARKA.
TO REPORT DAMAGING WINDS...LARGE HAIL...OR FLOODING...THROUGH OUR
AUTOMATED REPORTING SYSTEM...CALL OUR TOLL FREE NUMBER...
1 8 7 7...6 3 3...6 7 7 2.
A TORNADO WATCH REMAINS IN EFFECT UNTIL 1000 PM EDT FRIDAY EVENING
FOR NORTHEAST GEORGIA AND WESTERN NORTH CAROLINA.
LAT...LON 3542 8403 3552 8388 3557 8374 3556 8352
      3569 8326 3566 8319 3555 8316 3545 8336
      3530 8332 3500 8351 3514 8366 3514 8374
      3523 8370 3525 8371 3524 8385 3521 8392
TIME...MOT...LOC 2110Z 274DEG 38KT 3589 8427 3553 8424
And if that wasn't bad enough, we have this as a slight possibility...
TORNADO WATCH OUTLINE UPDATE FOR WT 134
NWS STORM PREDICTION CENTER NORMAN OK
340 PM EDT FRI APR 10 2009
TORNADO WATCH 134 IS IN EFFECT UNTIL 1000 PM EDT FOR THE
NCC075-087-099-113-173-110200-
/O.NEW.KWNS.TO.A.0134.090410T1940Z-090411T0200Z/
.    NORTH CAROLINA COUNTIES INCLUDED ARE
GRAHAM               HAYWOOD             JACKSON
MACON                SWAIN
ATTN...WFO...BMX...GSP...FFC...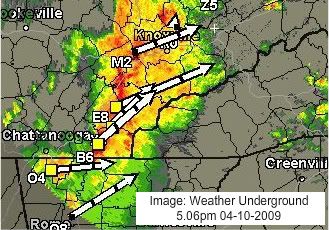 This was the radar image with storm tracker turned on from the
MRX Radar Station
in Tennessee.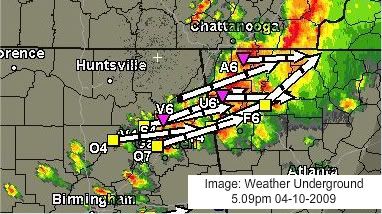 And this image is from the
HTX Radar Station
in Alabama.

The thunder is already cracking pretty loud here...so I'll batten down the hatches and wait this one out. Maybe I'll get a couple of shots or two of lightning (if I don't crawl under the bed with my cat).

Here is the view to the southwest: