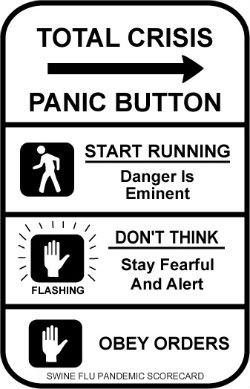 It is no wonder that some people are freaking out over this Swine Flu outbreak in Mexico...especially with Cable News that is on and blaring updates 24 houirs a day, and an always on Internet that is full of speculation and rumors run amok.

Here is just a taste of the kind of stuff that can be found:

I'll start with the stupid, the Democrats are blaming the Republicans, even though Democratic Senator Chuck Schumer bragged about removal of funding "All those little porky things that the House put in, the money for the [National] Mall or the sexually transmitted diseases or the flu pandemic, they're all out" [Source]

and the insane Alex Jones "Swine Flu Special." Just give it a listen and see if you don't agree that he is completely insane and/or relishes his role in spreading fear of all things not him.

The UN is considering raising a global pandemic alert.

John Galt Underground let's us know that compared with everything else...the Swine Flu is nothing to be concerned about.

The Survival Podcast offers a clear-headed look at the Flu Scare.

17 people in the UK are being tested for Swine Flu.

And, for some comic relief...President Obama tells his teleprompter to "speed it up"...




Okay, back to the Swine Flu scare...

President Obama says that there is no cause for alarm concerning the Swine Flu. Eeek! This may be the first time I agree with the guy!

And, here is a map so you can see how the thing is spreading, and separate the suspected cases from the confirmed and see where people have died:



View H1N1 Swine Flu in a larger map


I have given up altogether of finding anything useful on twitter using Twitter Search due to the sheer volume of tweets and retweets and retweets of retweets on news, rumors, and conspiracy theories concering the Swine Flu.

To cut out on the completely unneccesary chatter, here are a few twitter accounts that I believe you should be following:



Also, check out the accounts that the above accounts are following...there is a treasure-trove of Federal and Health-related twitter accounts for you to check out.

And, perhaps the best one-stop shopping place for info right now is the

CDC webpage devoted to the Swine Flu

. You will find official information posted there, along with audio and video podcasts and transcripts of press conferences and phone conferences.

There are also pages concerning developments taken from media sources at

facebook

and

Conservative Thunder

, and don't forget the simple utility of just searching for yourself:


Google News search for keywords: "swine flu" sorted by date.
Yahoo News search for keywords "swine flu' sorted by date.

I'm going to stop now because my head hurts, and I have two or three more hours of video to edit from Saturday's GOP Convention.