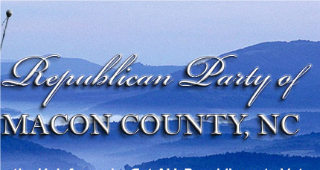 Tomorrow will be a busy day for me at the Macon County GOP Convention, and I will have video snippets up sometime tomorrow afternoon.
The Macon County GOP will hold its annual convention of registered Macon County Republicans on March 07, 2009 at the Macon County Community Center in Franklin. A covered dish lunch will be served; there is no charge for lunch or the convention. 

Registration is from 11:00 a.m. -12 noon with lunch available from 11:30 a.m. to 12:30 p.m.; Precinct meetings are from 12:30 to 1 p.m. 
During this session, the Precincts will elect officers and voting delegates to the convention. 

The Convention 'call to order' and "honor America' ceremony will occur at 1:00 p.m. with Convention adjournment at approximately 3:00 p.m. The Convention will elect Macon GOP officers and the executive committee for 2009-2011, designate delegates to the District and State GOP conventions, receive finance and organizational reports, and discuss general party issues.
and here is the other county convention in the area, Buncombe County:
The convention will be held in the Ferguson Auditorium. Registration begins at 7:30 AM.
There is a $5 requested donation for attendees.

Convention Schedule:
7:30-8:30 Registration
8:30 Precinct Meetings
9-12 Convention
12-1 Lunch
1-2 Fair Tax Presentation
2-3 Precinct Training
3-4 NCGOP Candidates

Visit the 
Buncombe GOP website
 for more details, including location maps and documents to download.