I will leave this new banner up for the rest of the week in tribute to our 43rd President, George W. Bush. I wish to thank him for his selfless service to our nation.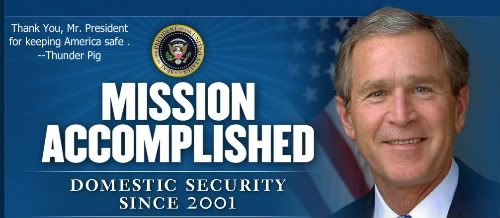 ---

Mr. President, 
I want to thank you for keeping this country safe from terrorism in the wake of 9/11 when everyone expected that more attacks would follow regardless of what we did to stop them.

You did what they said could not be done. You provided the leadership when America needed it. Against all odds you succeeded.

Thank you, Mr. President...for a job well and faithfully done.

---


You can leave your own note of thanks at
Mission Accomplished
...the place where I swiped the design for my tribute banner to the job
President George W. Bush
did in keeping America safe.